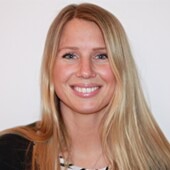 Elin Ingemarsson
Property Manager – STENA FASTIGHETER
Property Manager in Fisksätra, Gustavsberg, Stockholm

I have been working with Stena since january 2016

What I really enjoy about my job is the variety of tasks, no day is like the other.
The best thing about my job is that I meet new and amazing people almost every day. We exchange ideas to grow together and develop new skills.
In my job I meet tons of different people, from tenants in residential/commercial buildings, project managers to politicians and of course other colleagues from Stena.

As an employee I feel much appreciated and I have huge opportunities to be part of fun and interesting projects. The company has great activities for employees and really cares about our wellbeing.
As an employee I also experience that I have the opportunity to develop and improve my skills through work and education. It is also a company that takes great social responsibility which I think is very important.