STENA GROUP IT
·
GOTHENBURG
Integration Developer
We are looking for a brilliant Integration Developer to join our Automation Center team!
The team is responsible for developing and supporting business integrations which consume and distribute data from/to our business, as well as developing tools that enable Group IT to deliver world class business technology integral to Stena.

We offer
As an Integration Developer within the Automation Center, you will be working in a highly motivated and skilled team. Using your knowledge and experience with integration development, you will be supporting on projects across Stena and Group IT, working closely with various technical teams and the businesses, delivering tangible results. In this role, you will work with process automation, where together with the client you will analyze what parts of the process can be automated and how.

You will get responsibility for implementing improvements, driving change, and creating systems for continuous integration and deployment. You will get an opportunity to work with several tools and methods, mostly within Azure Integration Services (Logic Apps, Service Bus, APIM, Event Grid, Azure Functions and Azure Data Factory).
Responsibilities:
Developing, managing and facilitating the delivery of integration solutions for key business requirements.
Supporting those solutions once running in the business.
Supporting Group IT and Stena in scoping and planning, development, testing, deployment and support.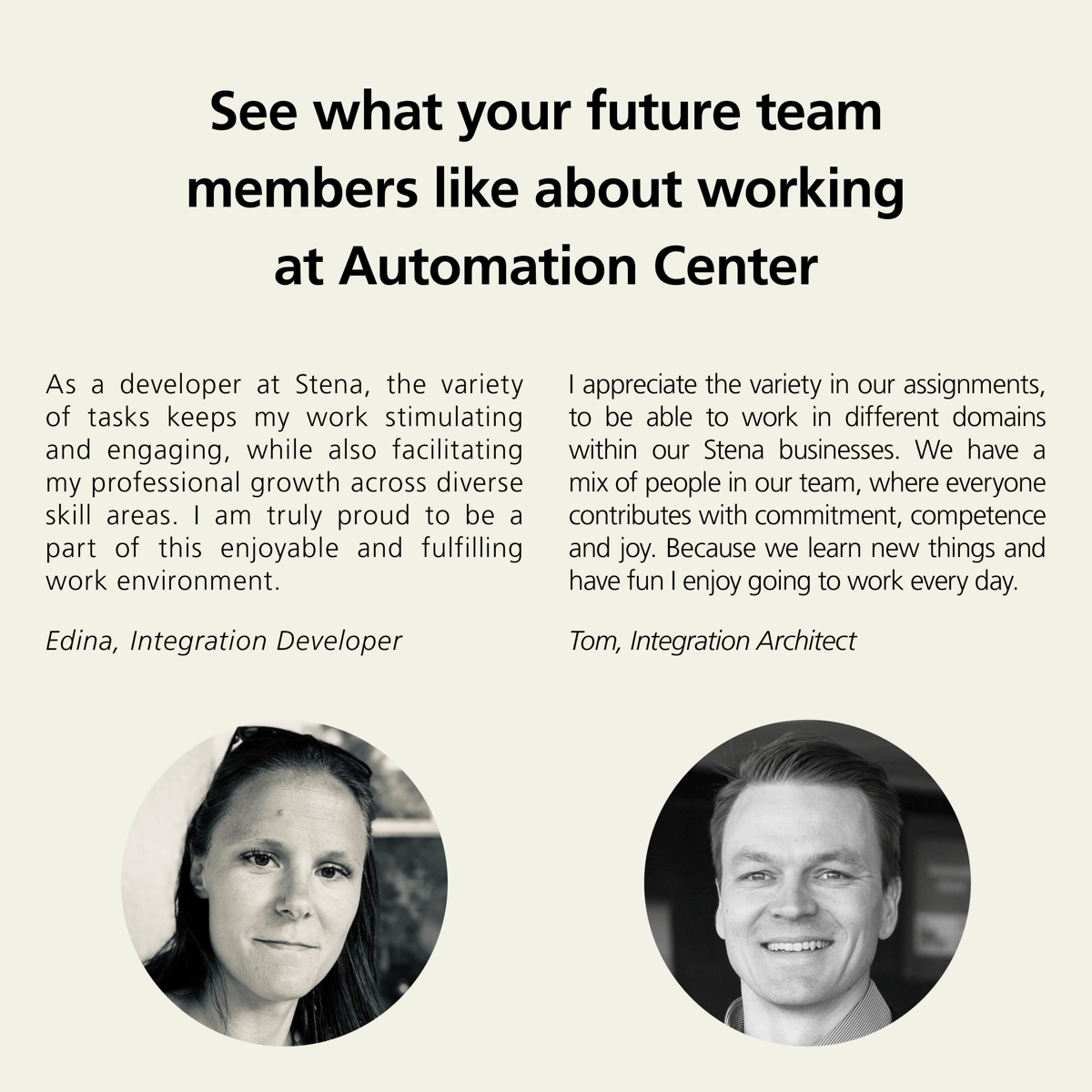 About you
We believe that you are a natural technologist with a passion for development and learning. We are certain that one of your character traits is a generosity of your knowledge. This mindset is reflected in the teams you work with. If you are skilled in developing automated flows and enjoy helping the business improve software quality - you are a great fit to our team!

We believe you will bring good hands-on skills in designing and building integration solutions, with ability to evaluate new technologies with a business mindset. It is important to have an ability to quickly adapt to existing toolchains and work with improving these. Preferably, you have a university degree in computer science or equal.

A large part of the work takes place directly with our customers and it is therefore a requirement that you can easily communicate in both Swedish and English. The job requires you to be in the office in Gothenburg about three days a week when the rest of the team is there.


About Stena AB
Stena AB is one of the largest family-owned companies in Sweden with global operations in five business areas: Ferry Operations, Offshore Drilling, Shipping, Property, Finance and New Business. We are committed to maintaining and developing a sustainable working environment, that gives equal opportunities to everyone. We embrace equality, diversity and inclusion – and welcome all applicants.

Questions
About the position: Pernilla Kurtsdotter, Manager Automation Center, pernilla.kurtsdotter@stena.com
About the recruitment process: Sofia Bergquist, HR Business Partner, sofia.bergquist@stena.com
We are handling applications on ongoing basis. Send in your application no later than 11 June.

We look forward to hearing from you!
OUR VALUES
Our values guide us in everything we do.
About Stena
With care, innovation and efficient performance as their guiding principles, our 15,400 employees around the world work every day to create value for our customers within our business areas Ferry Operations, Offshore Drilling, Shipping, Property, Finance and New Business

Please follow us on social media LinkedIn and Facebook